1967 - 1968 Club and Team Photos
66-67 Band Returns from Expo in August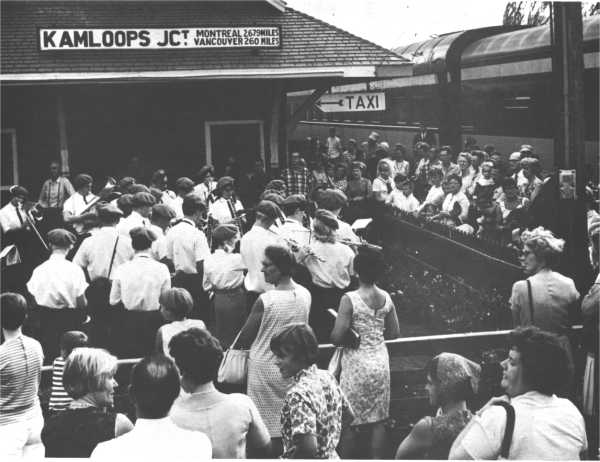 Kam-Hi's Senior Band of '67-'68 has had a busy but enjoyable year under its leader, Mr. Frank Hosek. The executive consisted of Lynda Myronuk treasurer, and Janis Killen secretary.

The band traditionally participated in the Armistice Day Parade, a Christmas and an Easter concert, and the commencement exercises. It also entertained the Yale-Cariboo Music Festival and scored marks of 87 and 89 for its selections.

The highlight of the '67-'68 season was the trip to Lethbridge from May 10-12. Here the band was hosted by the Lethbridge Junior B and which was originally established by Mr. Hosek and is presently under the leadership of his father, Mr. Frank Hosek, Sr.
Art Club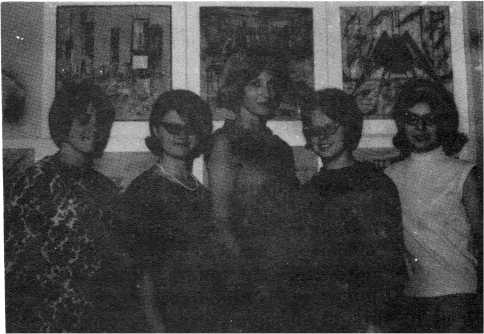 One of the new clubs started this year was the Art Club. The executive was: President, Gennis Wright and Secretary, Jessie Chow. The members were: Barb Kane, Dot Samerow, Lynn Rutherford, Judy Kish, Annie Vandervliet, Glenna Zais and Cathy Wheeler. Mrs. Howard was the sponsor. The purpose of the club was mainly to stir interest in the fine arts and to provide a place where students could work together. Also the club hoped to be the nucleus of a bigger and better club the following year. Among the projects taken on were helping the committee decorate the Sadie Hawkins, and making the posters for various activities.
Boys' Curling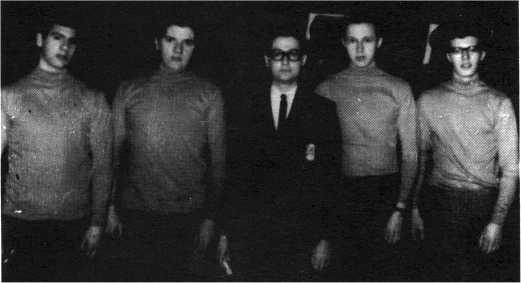 Kamloops' Secondary Schools Boys' curling team under its skip, Mark Ottem, captured the 1968 B.C. high schoold boys' championship title. The rink consisted of Mark Ottem - skip, Brian Chapman - third, Gordon Slater - second, and Larry Maralia - lead. Mr. Bernie Rothenburger and Mr. Ralph Gerrie - coaches.

The boys began a very successful season by winning the North Okanagan playdown at Revelstoke during the Chistmas holidays. They continued their luck by gaining the Okanagan title in Summerland and finally the B.C. crown in Salmon Arm.

The B.C. victory entitled the Ottem rink to an expense-paid tirp to Port Arthur, Ont. To compete in the Canadian Schoolboys' Championships during a week in March.

Although they were not victorious, Mark and his rink represented our school and our province well as they met and competed with curlers from all across Canada.
Football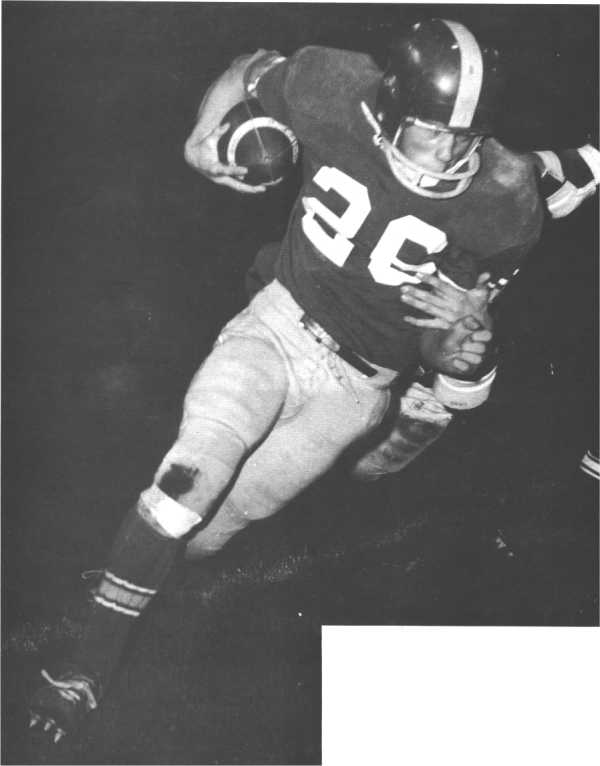 This year the Red Devils footbal team got off to a poor start when they lost 39 to 0 to Penticton. They then beat Kelowna 20 to 12 in Kelowna and downed Vernon 13 to 0 in Vernon. They lost to Immaculata 34 to 0 here and to Penticton 39 to 6 in Penticton. A Chilliwack team came here for an exhibition game and defeated the Devils 14 to 0. The Devils grabbed fourth spot in the league when they defeated Vernon 12 to 7 here. The football season closed with a banquet in Penticton after the Sagebrush Bowl in which the Maple Ridge Ramblers, winners of the Vancouver league defeated Penticton, Okanagan winners. Our football queen, Nancy Edworthy, was in the Miss Okanagan Football Queen contest. It was announced at the banquet that Tom Cook had been named to the All-Star Team.
Future Nurses' Club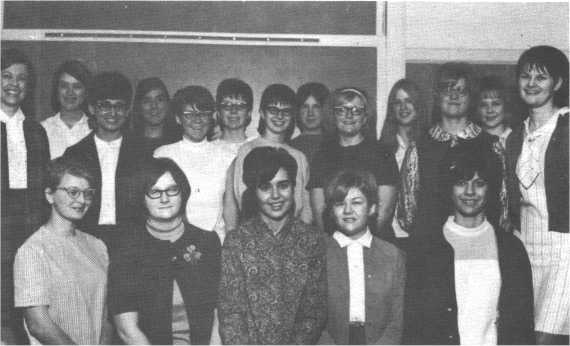 Sheila Turner is the present of the Future Nurses' Club this year. Our vice-president is Darlene Davis. Miss Clements, our sponsor, usually attended all our meetings and our many tours.

We had a very successful tour of Tranquille November 3. Mr. Clau explained the operation of the school and extended an invitation to visit it weekly, which we accepted.

We had three homemade candy sales, the profit we put towards making a cake for the Student Nurses at the hospital on Valenties Day.

We have 28 girls in the group this year. It has been a very enjoyable club.
Girls' Curling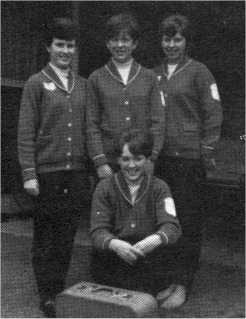 This year's Girls' Curling team consisted of June Colman - skip, Janis Killen - third, Phyllis Colman - second, and Leslei Carin - lead. Mr. Kelly Carin was the coach.

The girls won the North Okanagan playdowns at Christmas in Kamloops, and continued on to win the Okanagan title by defeating the South Okanagan visitors, Penticton. This was the win that gave the girls the right to compete in the provincial finals held in Burnaby at Easter. In the B.C. competition, our KSS team placed second, being defeated by Powell River in an extra game.
Grass Hockey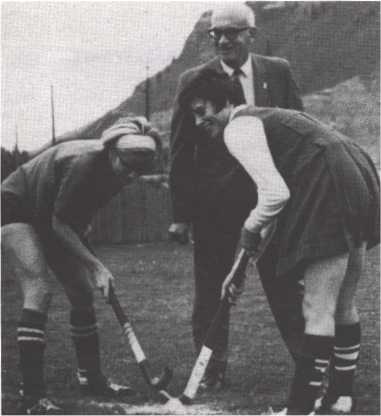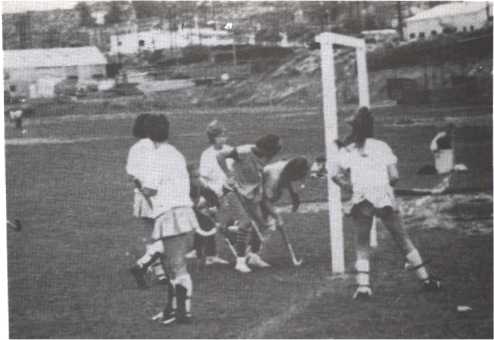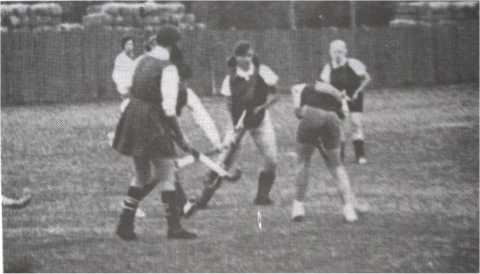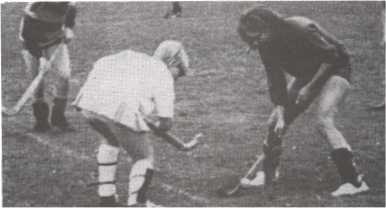 The Red Angels grasshockey team started their season off on a good note by winning their first tournament of the year. In their final league competition the Red Angels had four wins and no losses. In the Okanagan Grasshockey Tournament they placed second behind Salmon Arm. In October they participated in the B.C. finals held in Grand Forks. They were the only team out of 16 not to have a goal scored against them. The Red Angels travelled to the Victoria University to play in the Easter Jamboree. Out of a total of 10 games they won four, tied four and lost two.

The members of the Red Angels grasshockey team would like to acknowledge and thank their coach, Mr. Fynn and their sponsor, Miss Richardson.
Judo Club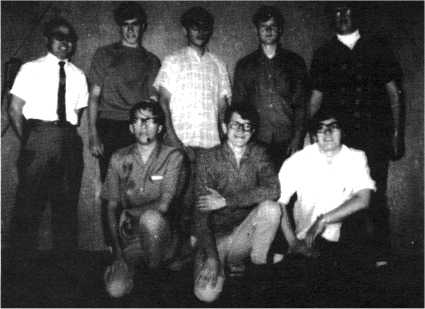 Our Judo instructor was Mr. Sakakabara, a fifth-degree black belt.

The Judo Club began with many members and ended with a dedicated few. Judo, like any other art, requires practise to obtain proficiency. Training begins with learning how to break your falls properly. Then you learn to throw an opponent, hold him on the mat, and choke him.

This year as it was the club's first year, Mr. Sakakabara did not promote any members to higher grade belts. The club met two nights a week in the gym, using gym mats for practise. Next year we hope to have the real Judo mats, as gym mats are poor to fall on. We also hope to participate in some tournaments, which we did not do this year. Mr. Sakakabara hopes to get Judo clubs going in other schools and eventually have inter-school tournaments. So, if you want to keep in shape join the Judo Club next year.
Junior Cheerleaders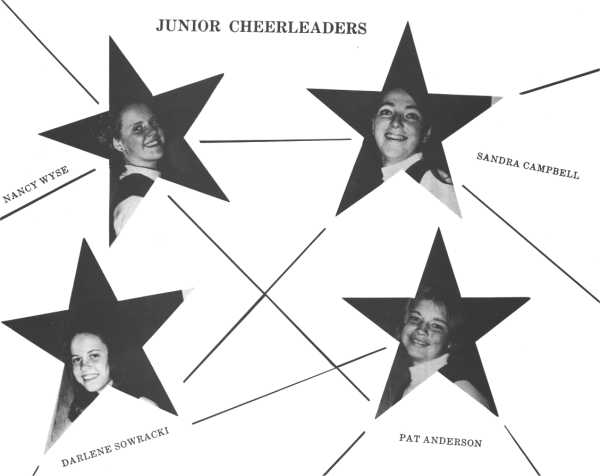 Junior Girls' Basketball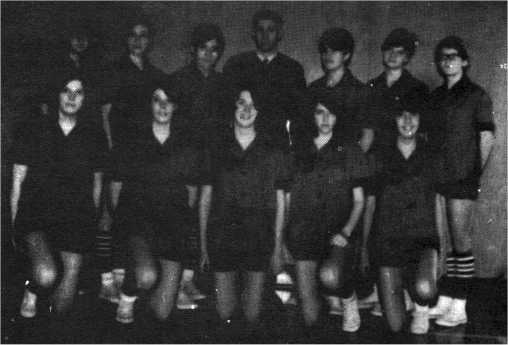 Junior A


Front: Linda McDonald, Jane Clovechuk, Glenda Gesy, Diane McLaren, Sheilaugh Jolley
Back:Janice Banks, Kathy Kjelson, Lucille Matthews, Norm Cleveland, Renny Davis, Linda Stevens, Judy Banks

Coach: Norm Cleveland
Manager: Carol McIsaac
Team: Jane Clovechuk, Lucille Mathews, Linda McDonald, Linda Stevens, Sheilagh Jolley, Kathy Kjelson, Glenda Gesy, Diane McLaren, Janice Banks, Judy Banks, Penny Davis

This year the '67-'68 Junior Girls' Basketball team ended in first place in the league standings and went on to win the Zone Finals by defeating St. Ann's and Merritt. They then advanced to the Okanagan Finals where they defeated Salmon Arm and lost to Winfield, to place second in the Valley Finals. This was the end of a very rewarding and Successful season.
K.S.S. Senior Band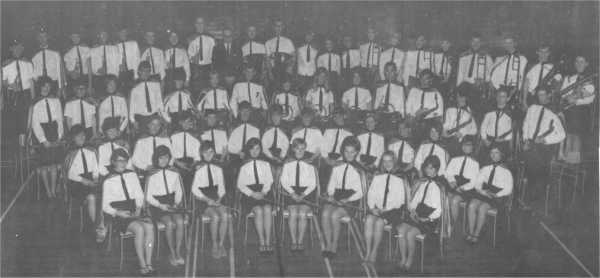 First row (left to right): Susan Killen, Mary Frolek, Linda Stevens, Glenda Hubbard, Jo-Anne Connelly, Lynda Myronuk, Pat McCauley, Brenda Bolton
Second row: Janis Killen, Janice Smith, Rod Ramage, Pria Fuoco, Larry McKay, Robbie Gulliford, Carleen Schneider, Don Banks, Robert Geier, Sandra Jepson, Leslie French, Terry Hasler, Fawn McLeod, Lorna Ottley
Third row: Sheila Crane, Brian Hosek, Diane Stoodley, Don Nelson, Nancy Edworthy, Susan White, Lidnsay McLeod, Helen Askew, Susie Rogers, Brian Hayashi, Rick McCoid, Lorna Stevens, Jim Clark
Fourth row: Don Hosek, Jack Nelson, John Cordonier, Alex MacLean, ,Keith Dinicol, Mary Stuart, Phil Banks, Mr. Hosek, Ron Duncan, Gerry Bond, Shelaugh Jolley, Lee Hartney, Janice Banks, Alan Crane, Bill Green, Marylin Edgar, Don Allan, Richard Askew, Glen Burgoyne, Kathy Hewlett
Library Club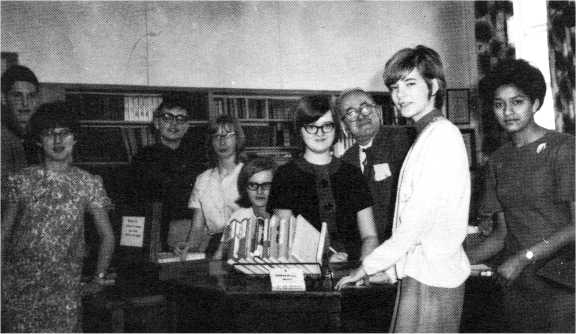 This year's club was small but active. Mr. Cockburn was the sponsor. At Christmas was decorated the library for the Yuletide season. The duties of the members were: repair old books, replace books to the shelf, take care of checking in and out the books and generally keeping the library clean. We hope that next year's club will be even better.
Powderpuff Football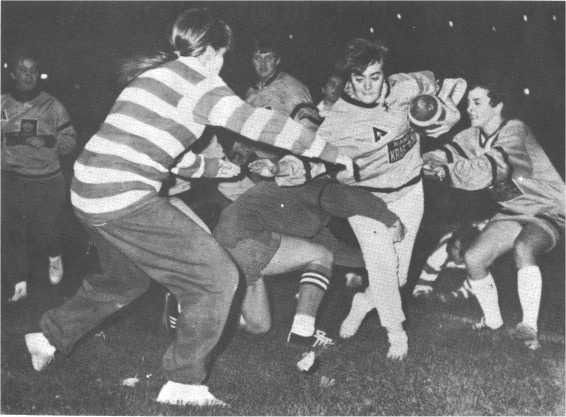 Red Angels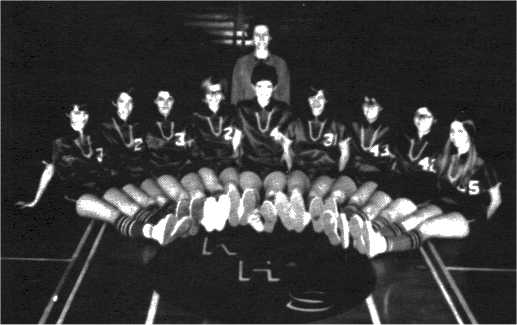 Red Angels


Left to right: Susan Wyse, Coralea Watson, Judy Seibel, Cherie Kassiones, Janice Gee, Joan Peterson, Lynn Berry, Carol Trowski, Chris Schoening. Coach: Miss Richardson.

The Red Angels Basketball team has been very successful this year. They started the season with their own jamboree and won all their games. In the Christmas tourney they placed second. They also placed second in the Lakette tourney held in Penticton. The Red Angels were invited to compete in the second annual Herbette tournament in Nanaimo in February. In league games they came out in second place making them eligible for the Okanagan finals where they placed third. In the B.C. finals the girls made a good showing with Susan Wyse winning one of the two scholarships given.

The Red Angels along with Merrit and champion Salmon Arm proved that the Okanagan has the strongest girls' basketball teams in B.C.
Red Devils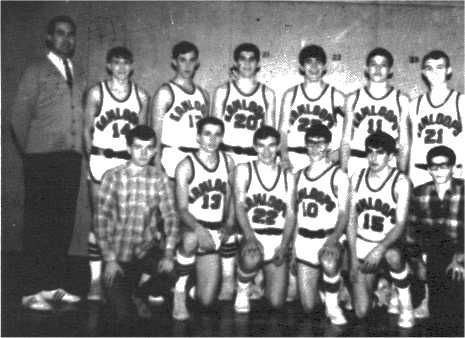 Left to right: Front: Glen Burgoyne, Doug Cripps, Rick McCoid, Bernie Ivanco, Brian Cowan, Victor Bifano
2nd Row: Mr. Martino, Doug Marchuk, Howard Hall, Pat McLaughlin, Ron Carter, Jim Marchuk, Murry Hedley.

The 1967-1968 Red Devils with some of the best players that KSS has produced have had another successful season. Their 17-6 won, lost record, with only 1 loss in league play, merited them first place in the Okanagan Basketball League.

The Devils were unable to come up with victories in the inal games of 4 tournaments including the Okanagan championship. Jim Marchuk was the big gun this year coming first in scoring and first in rebounding.

Brian Cowan and Doug Cripps, considered on of the best guard combinations in B.C. came through with brilliant performances in their last year of high school ball.

Big Red Carter, first string centre, and Murray Hedley, first string forward had good seasons coming 3rd and 2nd in rebounding respectively.

Doug Marchuk, Bernie Franco, Pat McLaughlin and Rick McCord, all first year men, were the reason for many victories.

Howard Hall, a verteran of high school ball, who shoots a commendable 50 per cent had another tremendous season.

This year's team's performance has been one that has upheld the proud tradition of Red Devils basketball.
Riding Club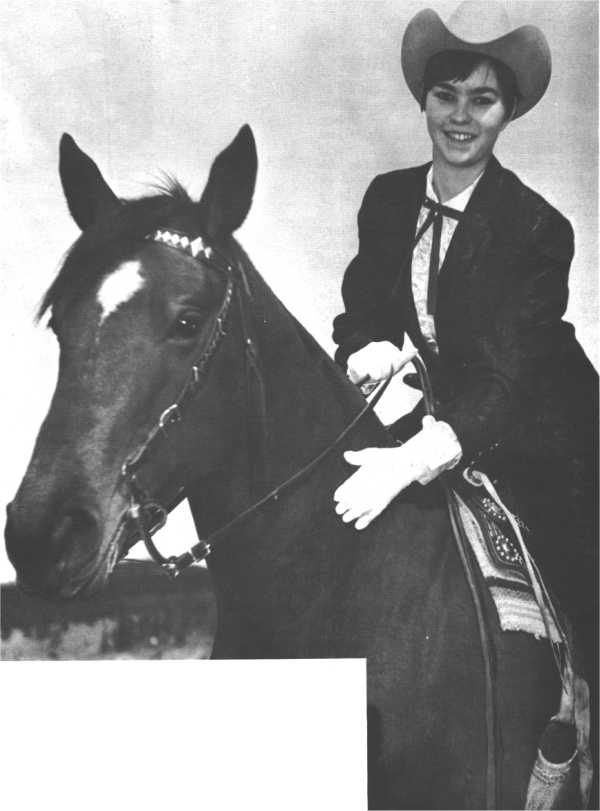 Alison McLean, member of the K.S.S. Riding Club was crowned Miss Kamloops Rodeo Queen for 1968.

The members of the school Riding Club meet every Wednesday noon under the sponsorship of Mr. Rothenburger and Mr. Riis. The 1967 executives are: President Becky Cordonier; Vice President, Tom Vicars; Secretary, Bruce Bolton, and Treasurer, Don Armishaw.

Throughout the year, we held several activites enjoyed by the horselovers. In January it was a sleigh ride, with a big spaghetti dinenr after. Some of our members arranged for the exchange students from Orville to have a horseback ride at Cordonier's Ranch. On several occasions we got together with the John Peterson Riding Club and the North Kamloops Riding Club to have some parties at the Hacienda Caballo. To end off a successful year we helped to sponsor an overnight trail ride to Pass Lake.
Senior B Girls' Basketball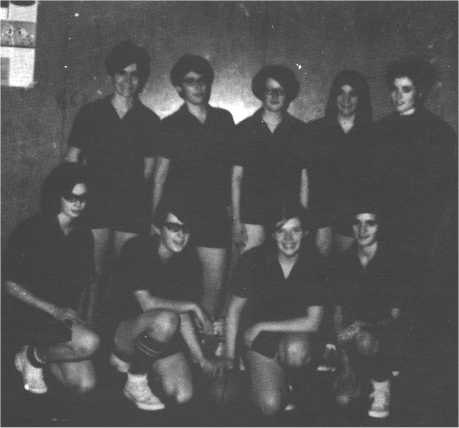 Sprites — Senior B


Front, left to right: Cathy Lansdall, Rose Anne Shuttleworth, Brenda Lake, Mary Frolek
Back: Judy McKenzie, Debra McQuarters, Ruth Tompkins, Anne Sbrocchi, Caroline Kassiones.

Coach: Caroline Kassiones
Manager: Team: Cathy Lansdall, Ruth Tompins, Mary Frolek, Rose Anne Shuttleworth, Anne Sbrocchi, Judy McKenzie, Brenda Lake

The Senior B team had a fairly successful season with a record of 4 wins and 4 losses. We ended the season by travelling to Merritt to compete in the Senior B Zone Finals where we placed 4th. Much thanks is extended to our great coach, Caroline Kassiones, with a special "thank you" to our co-managers, Deb McQuarters and Valerie Cope.
Senior Cheerleaders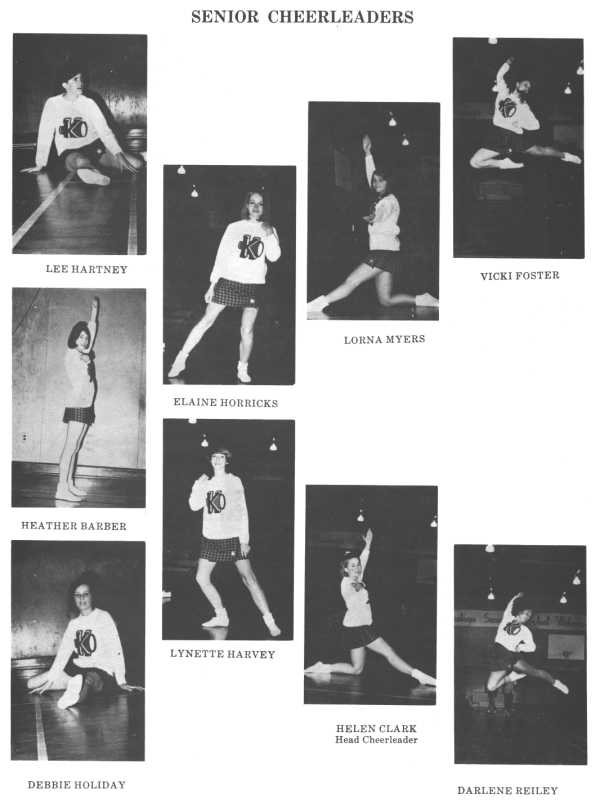 Soccer Teams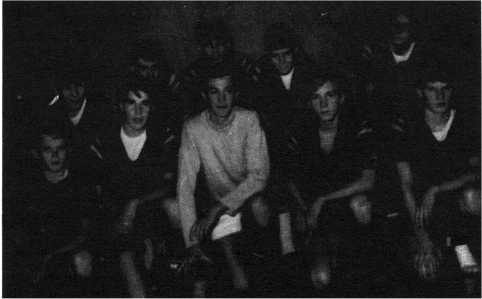 Senior
Coach: Mr. Strange
Captain: Murray Gagne
Team: Archie Jack, John Griffiths, Alan Kuroyama, Randy Wersch, Laurence Greef, Jim Bottoms, Phil Maher, Vice Corno, Dwayne Smith, William Camille, Pat Rose, Bruce Kingsbury, Carlo Corno, Bruce Moffatt, Bruce Landon

The Kam-High Soccer Clubs enjoyed a successful season in 1967-1968. The senior team beat Merritt 9-2 and 5-2. The team also lost their games to Nor-Kam 5-2 and 3-1. In an exhibition game after the season, the seniors held Nor-Kam at 2-1 until a few minutes remained when Nor-Kam manged to tie it up. Next year we will beat Nor-Kam.

Junior
Coach: Mr. Strange
Captain: Brian Hodson
Team: Dale Kinaschuk, Alan Burris, Tim Carmichael, Doug Schneider, Abbie Aspin, Bill Hales, Richard Beechman, Ron Daykin, Leonard Adolph, Wayne Hansen, Steve Latta, Robert Geier

The Junior Soccer Club also had a very successful season. They beat Merritt by a score of 6-1 and 9-2. The Juniors lost to Nor-Kam 2-1 and then won 3-1, but had to forfeit the game on a tchnicality.
Track & Field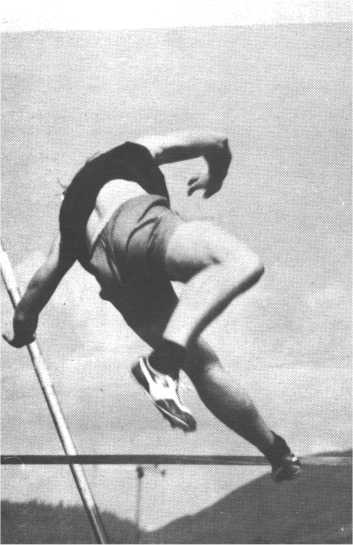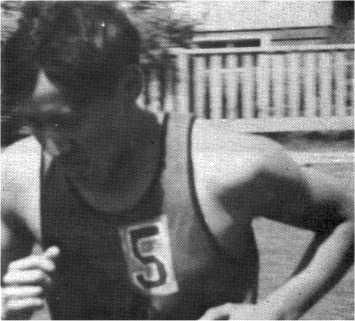 Coaches: Miss Cole, Mrs. Forbes
Team: Raser Stewart, Barb Charles, Ernie Celesta, Heather Allan, Don Klapechki, Tod Mercer, Howard Hall, Bob Anderson, Laurence Greeff, Jim Huska, Bruce Moffat, Lucille Matthews, Bob Patterson, Brian Cowan, Doug Cripps, Kim Clark, Stephen Jules, Bud Ringer, Johan Griffiths, Terry Frolek
Volley Ball