1966 - 1967 Club and Team Photos
Angels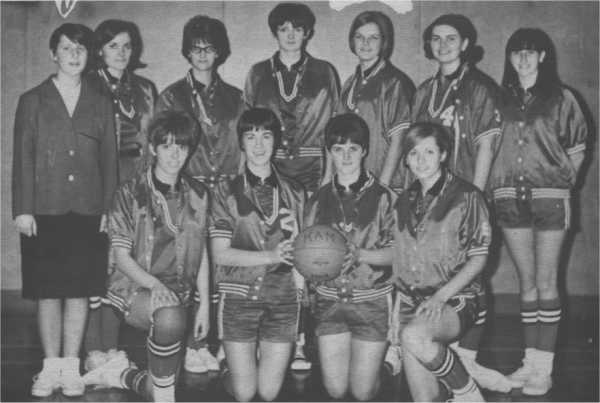 L to R Front — Lynda Jean Nicholson, Jane Davis, Judy Seibel, Cherie Cassiones
L to R Back – Lynn Berry, manager, Carolyn Cassiones, Coralea Watson, Janice Gee, Judy Johnson, Penny Marshall, Marilyn Hanna, Capt. Judy Seibel, Coach
Athletic Co-ordinating Committee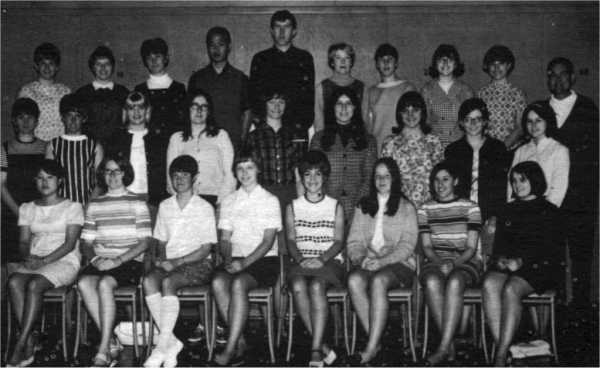 L to R Front — Joanne Saito, Kathy Middleton, Mariane Philip, Diane Coleman, Darlene Reilly, , Mary-Anne Cook, Georgine Walker
L to R Middle —Sherry Biangoni, Lynda Nicholson, chairman, Brnea Smith, Ruth Balf, Margaret Clarkson, Pat Blanchard, Bev Kruesel, Cherie Cassiones, Liz Walker
back — Bridget Moss, Brenda Lake, Connie Glover, Chuck Ma, Ken Gordon, Barb Charles, Lynn Berry, Carol Gardener, Diane Ehlers, Mr. Martino, sponsor

Executive:
Chairman: Lynda Nicholson
Secretary: Kathy Middleton
Treasurer: Geogine Walker



Athletic Calendar 1967



September

16 - Red and Back Day Prep Rally, First Football Game


October:

22 - Football Queen Contest, Big Football Parade to Park


November:

19 - B.C. High School Girls Volleyball Finals
18 - 20 - Devils at Prince George
21 - Devils vs Harlem Stars


December:

9 - 10 - Devils Tournament
16 - 17 Angels Tournament


January:

14 - Devils and Angels to Oroville
25 - Challenge Cup Game
27 - Red and Black Day


February:

24 - Basketball Okanagan Finals


March

8 - 11 - B.C. Boys Basketball Finals
23 - Indoor Trackmeet
Boxing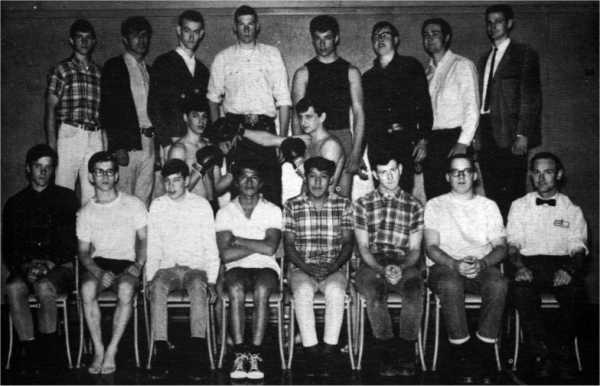 L to R Front — Craig Whalley, Domenic Joslin, John Philip, Steve Jules, Ernie Celista, Bud Ringer, Richard Spain, Mr. Dancer
L to R Center — Don Jury, Jerry Antoniak
L to R Back — Ed Barker, Lyle Smith, Jim ,Rick Dishin, Mike Anderson
Coach — Mr. Strange
Cheerleaders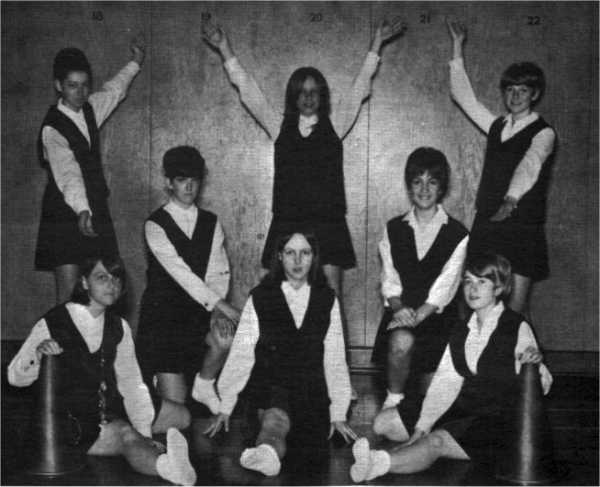 Standing — Shawn Quinn, Debbie Holliday, Lynette Harvey
Kneeling & mdash; Lee Harney, Darlene Reilly
Sitting — Lorna Myers, Vicki Foster, Helen Clarke
Sponsor: Mrs. Cook
Curling Club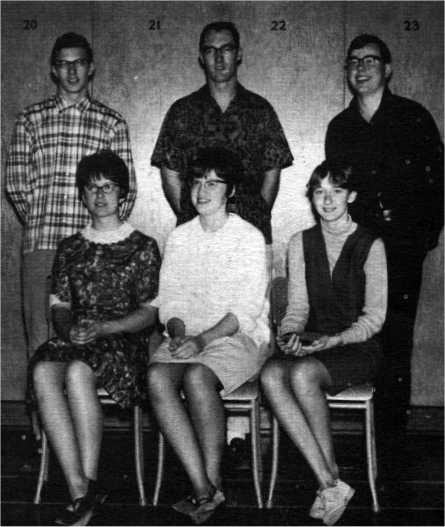 L to R Standing — Mark Ottem, Jim Stewart
L to R Sitting — Janice Killen, Phylis Coleman
Drama Club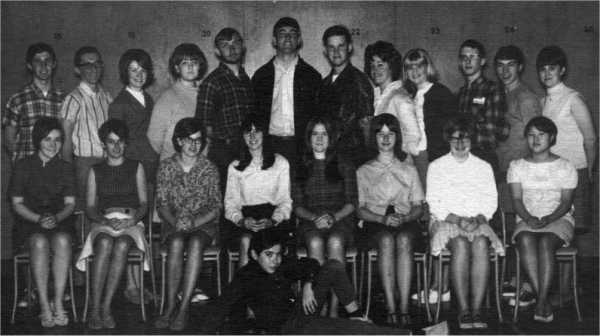 L to R standing — Gerry Conti, Darcy Horn, Maureen Marshall, Bonnie Hales, Bill Murdock, Ron Carter, Brian Long, Danielle Dun, Brenda Smith, Barry Hill-Tout, Ron Proscurniak, Joan McKinnon
L to R sitting — Sheena Ferguson, Gay Rose, Joanne Banks, Marilyn Hanna, Ida Wellwood, Valerie Stephenson, Susan Marnock, Joanne Saito, Dean Chabot
FAC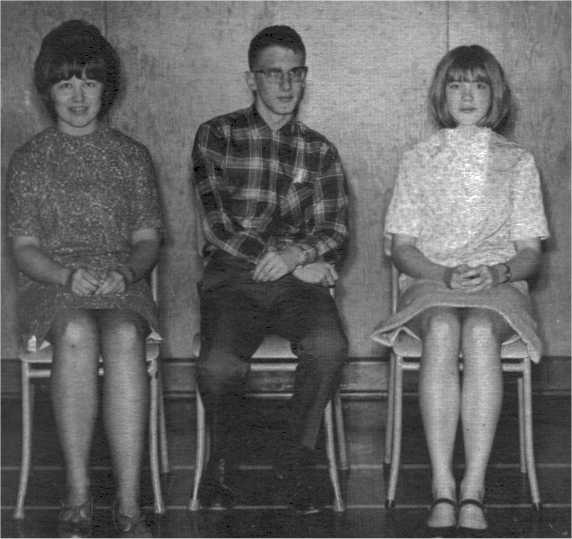 Loraine Osborne, Barry Hill-Tout, Linda Martin
Foster Child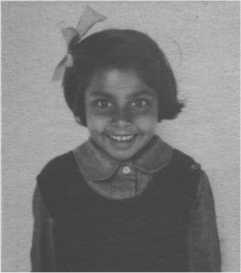 Elizabeth Milne



Elizabeth Milne is the little eight year old girl from India that the Student Council adopted this year as a foster child.

She is described as "a bright, cheerful child who loves to help". She and her sister and brothers were brought to Dr. Graham's Homes because her father had no job (they come from a famine area) and could not suport them.

Dr. Graham's Homes in Kalimpong, India, have been established for a long time, and have done a wondeful job in helping to provide a home and education for many needy children.

After students graduate from the school, they are placed in jobs, or enter vocational training or universities.

Many high schools, church groups, and individuals sponsor children in the homes.

This year, the Student Council raised money through doughnut sales to support Elizabeth.

It cost $120.00 a year to sponsor Elizabeth, and your support of this project has contributed to a very worthy cause.
Future Nurses Club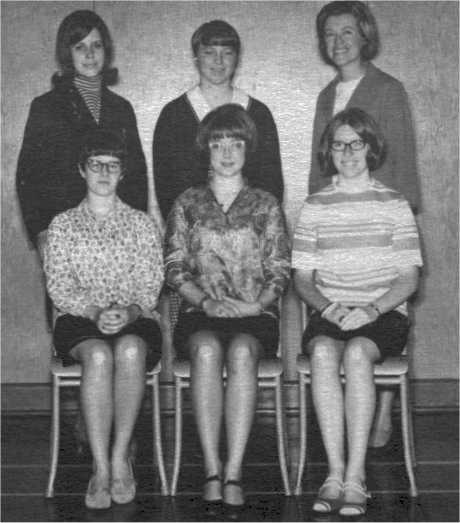 L to R standing — Inica Zwakenburg, Heather Allan, Miss Clemens
L to R sitting — Lenore Suffer, Judy Burnside, Kathy Middleton
Future Teachers Club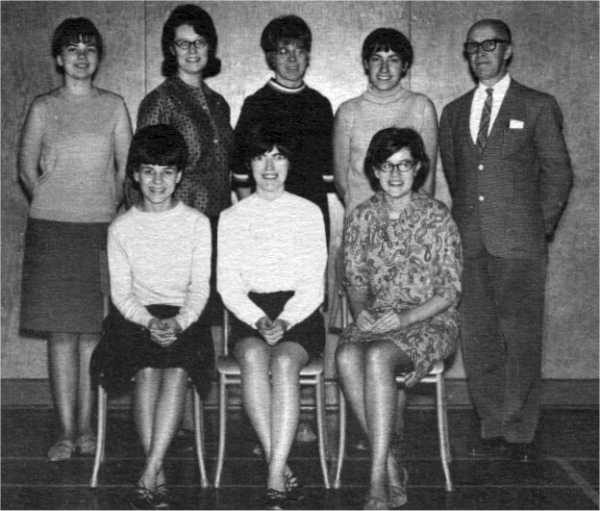 L to R standing — Betty Knoff, Loren McQuatters, Jean Frolek, Donna Shaw, Mr. Morse
L to R sitting — Carol Efanoff, Darleene Miner, Joanne Banks
Girls Grasshockey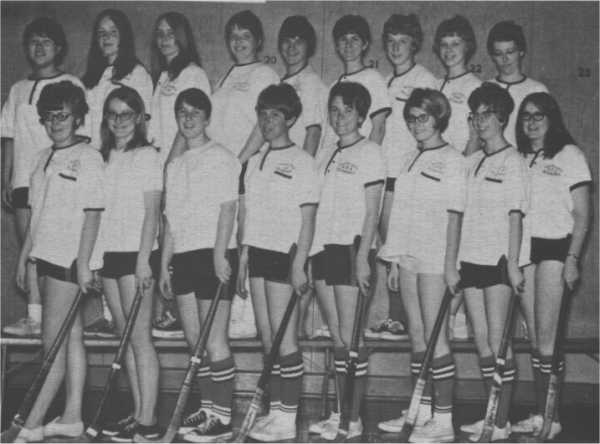 L to R Front — Diane, Susan Harvey, Lynn Berry, Lynda Nicholson, Carolyn Cassiones, Cherie Cassiones, Jean Frolek, Ruth Balf
L to R Back — Joanne Saito, Sheila Humphrey, Chris Schoening, Brenda Lake, Mary Frolek, Sherry Biagoni, Diane Stoodley, Daine Coleman, Debra McQuaters
Coach & mdash; Miss Richardson
Girls to Expo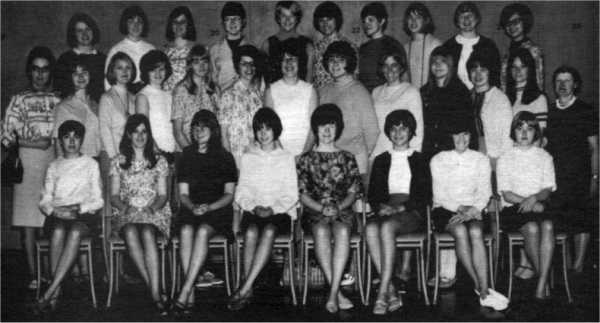 L or R top — Marsha Irwin, Linda Jarrett, Donna Barnhart, Marleen Goodman, Barb Charles, Diane Ehlers, Glennis Wright, Linda Martin, Sue Atkinson, Jessie Chow
middle — Miss Dawe, Valerie Stephenson, Maureen Wilson, Beverley Popp, Peggy Niemi, Meg Greenwood, Phylis Dalin, Bonnie Hales, Jean Embleton, Beth Marshall, Loraine Osborne, Jean Snowdon, Miss Steele
bottom — Pat Philip, Deanna Barnhart, Janis Ferguson, Heather Barber, Pat Brighton, Carol Weisback, Ada Pain, Marion Garvin

Sponsors &mdash Miss Dawe, Miss Steele

Missing — Nancy Martin, Terry Hasler, Ada Reedman, Anne Sbrocchi, Pat Fetterley, Cathy Clark, Norma Antoniak, Jacuie Pepper, Donna Green, Janice Cavazzi, Susan Howie, Sherry Dunsdale, Frances Wittner, Lorraine Leader, Joanne Laing, Eleanor Spain, Janet Cain
Hi-Lites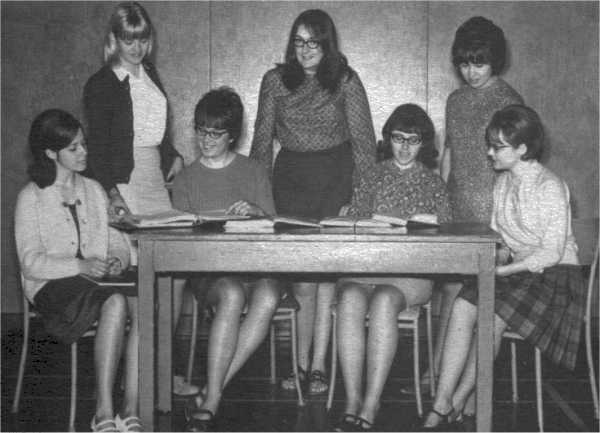 front — Inica Zwakenburg, Janis Killen, Carol Gardner, Judy Burnside
back — Brenda Smith, Ruth Balf, Lorraine Osborne
Jr. & Sr. Boys Volleyball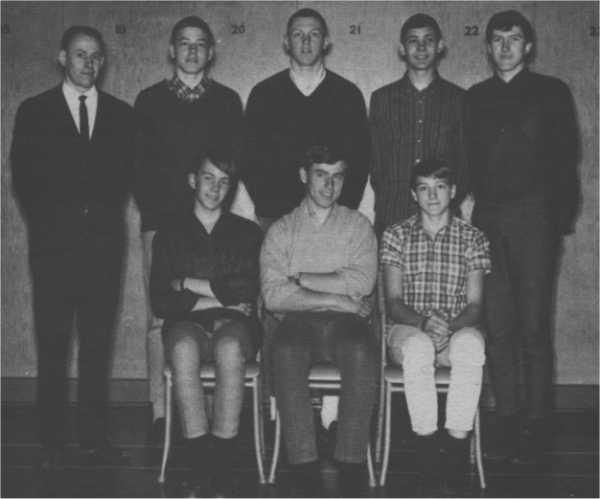 L to R Front — Alex McLean, Berry Blanchard, Doug Marchuk
L to R Back — Mr. Woods, coach, Jim Marchuk, Brian Marchuk, Glen Garrett, Ken Gordon
Missing — Doug Cripps, Dale Reimer, Ron Harris, Bob Gerrie, Dale Banno, Phil Maher, Marion Philipic, Bill Zernhelt, Bruce Moffat



Senior Boys Volleyball


Our senior Boys Volleyball Team was very successful in its league games agains Chase and Nor-Kam this year. The team won all of its three tournaments in this leagure, as each team hosted one tourney. Having won the right to represent Kamloops, the boys travelled to Oliver for the Okanagan Championship. In this tournament our team played quality ball in bating out Vernon, but came up against the greater opposition of Oliver and Penticton to end up in third place.


Players
Jim Marchuk
Dale Reimer
Brian Marchuk
Doug Cripps
Ron Harris
Ken Gordon
Glen Garrett
Gerry Blanchard
Bob Gerrie
Coach: Mr. Woods
Junior Band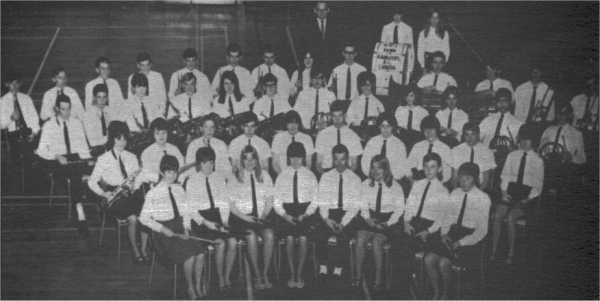 front — Anthea Holmes, Janice Smith, Pat McCauley, Mary Frolek, Charlie Hamilton, Leslie French, Warren Simons, Diane Stoodley
second — Lorna Stephens, Melodie Gilardi, Rod Ramage, Reg Fuoco, Ann Sbrocchi, Warren McKenzie, Ada Reidman, Nancy Martin, Doug Marchuk, Terry Hasler
third — Bill Green, Cathy Hewlett, Garth Reith, Don Nelson, Nancy Edworthy, Lindsay McLeod, Helen Askew, Dale Banno, Mike Odybskey
fourth — Don Hosek, Bruce Moffet, Alex McLean, Phil Park, David Otterley, Don McKinlay, Keith Dinicol, Mary Stewart, Phil Banks, Don Duncan, Cam Osborne, Mike O'Neill, Bill McLeod
back — Mr. Hosek, Lee Harney, Debbie Holiday

The Junior Band started the year by performing at a noon concert. Their second performance was the Christmas Concert where they joined the Senior Band and the Bell Canto Corale in a successful evening.

The Junior Band's first concert away from home was the Okanagan Junior Band Festival held in the spring at Penticton. The Band went home holding first place.

The two final performances were for the graduation ceremonies, the first at St. Ann's Academy and the second for our own graduates. These events marked the closing of a successful year.
Junior Football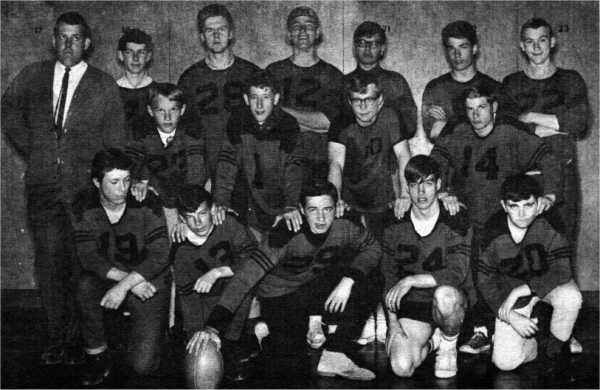 L to R Front — Dennis Gordon, Lyle Bradwell, Ken Smedley, Jim Heron, Doug Henderson
L to R Center — Mr. Chambers, coach, Robbie Heron, Bert Bucknell, Bret Cornell, Phil Maher
L to R Back — Jerry Dunn, Barry Kaywood, Ron Carter, Kim Melanchuk, Rick Dishin, Murray Hedley
Junior Girls Volleyball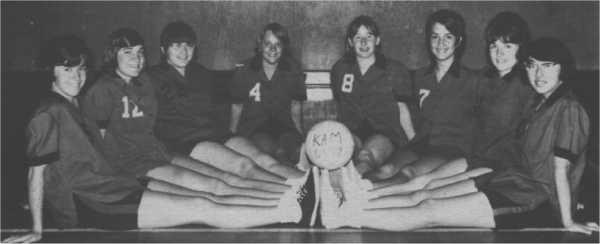 L to R Nancy Edworthy, Ann Sbrocchi, Carol Trowsky, Nancy Irvine, Valerie Stephenson, Darlene Reilly, Lorna Stephens, Joyce Kaminishi
Missing — Susan Hurteav
Coach — Miss Richardson
Library Club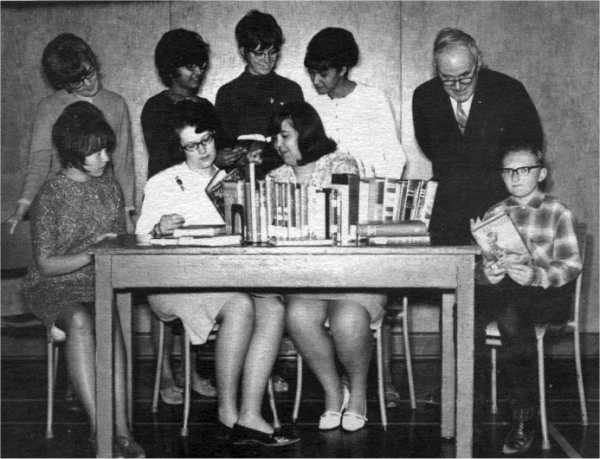 L to R standing — Sito Singh, Jean Froleck, Mr Cockburn
L to R sitting — Lorraine Osboren, Ralph Thompson, Valerie
Red Devils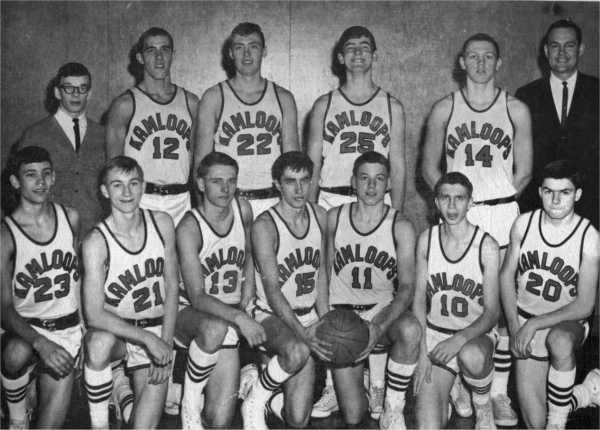 L to R Front — Gen Garratt, Murray Hedley, Doug Cripps, Brian Cowan, Jim Marchuck, Bob Gerry, Mary Whitman
L to R Back — David Scott, Manager, Bob Paterson, Geoff Thomas, Ron Carter, Brain Marchuk, Mr. Martino, Coach
Riding Club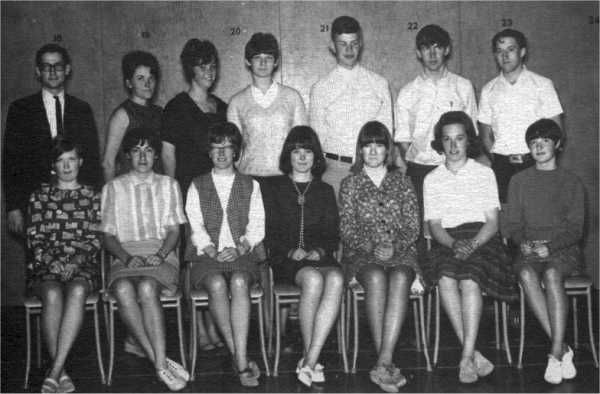 L to R back — Mr. Rothenburger, Carolyn Cassionnes, Alison McLean, Bev Clarke, Tom Vicars, Alan Woodbury, Don Armishaw
L to R bottom — Elaine Woodworth, Donna Shwa, Gretta Larsen, Nancy Kershaw, Sandra Sponagle, Becky Cordonier, Marion Phillip
Senior Band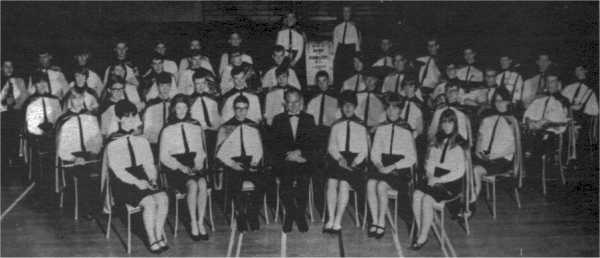 front — Marueen Gee, Sheila Crand, Brian Hosek, Mr Hosek (conductor), Janice Killen Linda Palen, Karen MacLarsen
second — Walter Louse, Gary Akenhead, Brian Lyall, John Mobbs, Ted Price, Peter Torregiani, Larry MacKay, Robert Gulliford, Carleen Schneider, Don Banks, Doreen Brown
third — Jane Davis, Lynn Fetterly, Carol Long, Brian Cowen, Rick McCoid, Don Marshall, Glen Burgoyne, Susan Rogers, Brian Hayashi, Mike Odynsky, Dale Braithwaite, Doug Thompson
fourth — John Cordonier, Jack Nelson, Don Hosek, Brian Long, Ray Willie, Ed Basile, Jim Smith, Joanne Connally, Lynda Myronuk, Dave Rorie, Gerry Bond, Richard Askew, Tim Crowder, Don Allen Marilyn Edgar
missing — Jack Fulton

The Senior Band this year celebrated the Centary by going to Expo. They worked hard, frantically saving money earned through chocolate drives and concerts. It was worth every bit of effort. The week spent travelling and one week spent in Montreal were all fantastic. 1967 was a year this band will never forget. There was a great deal of fun, cherished experiences, a few minor accidents, and many good friendships found on the trip.

The students of the 1966-67 Band wish to thank Mr. Hosek, their leader, for giving them the opportunity for such an experience and for putting up with them in the hectic two weeks. Thanks also go to our adopted mothers and fathers who were so much needed and appreciated many miles from home.
Senior Football

Front — Dean Chaboda, Mike Fripp
Middle — Fraser Stewart, Dennis Rignier, Doug Thompson, Bob Ormond, Allan Critcley, Allan Bogetti, Gerry Dupont, Stan Ashbee, Robbie Heron
Back — John Peters, Pat McLaughlin, Ed Basile, Mr. Chambers, Coach, Bot Davies, Richard Spain, Brian Marchuk, Phil Baker, Grant McLeod, Jim Kershaw, Allan Woodbury, Mark Tully, Everard Miasaki, Stewart Brechan
Soccer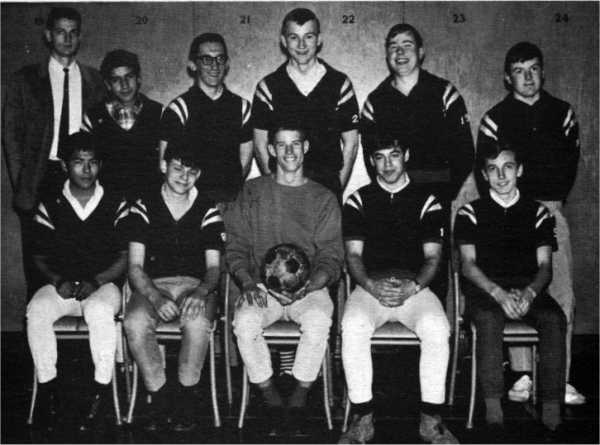 L to R Front — Ernie Thomas, Bruce Kingsbury, Don Clovechuk, Don Jury, Bob Chase
L to R Back — Mr. Strange, Coach, Smith, Darcy Horn, Chris Swaine, Murray Hedley
Social Calendar 1966 - 1967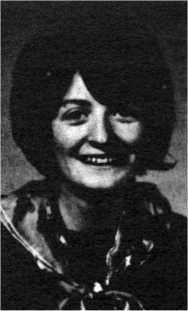 Maureen Marshall



September:

24 - First Student's Council Meeting
24 - 30 - Grade Eleven Interprovincial Exchange
30 - Barn Bash


November:

11 - 13 - S.F. U. General Assembly of Students
18 - 19 - Student Council Conference in Kelowna
18 - Sadie Hawkins Dance
29 - Sound of Music afternoon performance
30 - Sound of Music four day run


December:

16 - A.C.C. Talent Show
22 - Christmas Prom
22 - Christmas Assembly


January:

16 - 20 - Christmas Exams


February:

1 - Pie-Eating Contest
16 - Hearts and Soles Dance
17 - J. A. MacDonald holiday


March:

2 -4 High School Drama Festival
15 - 18 - B.C. Dom. Drama Festival Finals
22 - Skating Party
22 - 23 - Centennial Days


April:

17 - 21 - Easter Exams
21 - Inter-School Dance
23 - 29 - Winthrop Exchange
29 - 6 Oroville Exchange


May:

5 - Band Dance
17 - 21 - Family Album won B.C. Finals
18 - Band in Penticton
24 - Gradjinkas


June:

2 - Banquet and Prom
7 - Family Album in Vancouver
8 - Ceremonies in Auditorium
9 - Student Council Elections
15 - Awards Assembly
19 - 23 - Final Exams
Sprites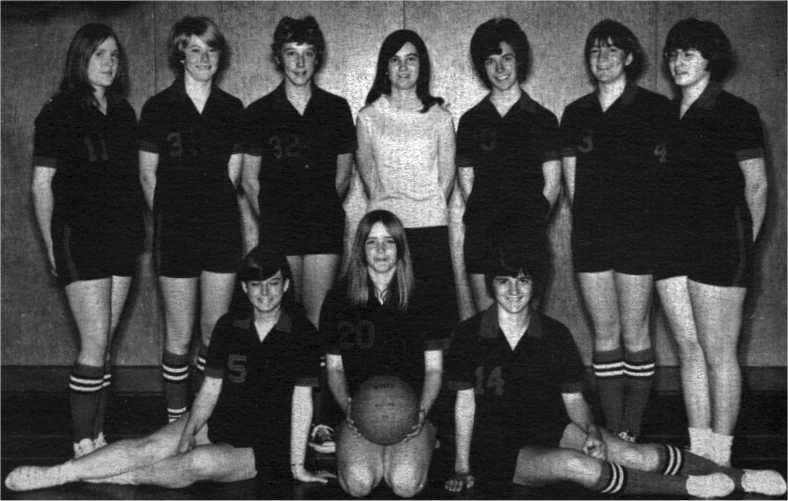 L to R Front — Isobel Riley, Chris Schoening, Mary Frolek
L to R Back — Ida Wellwood, Barb Charles, Diane Stoodley, Megan Suffredine, Nancy Edworthy, Ann Sbrocchi, Carol Trowsky, Coach: Mrs. Sullivan
Stars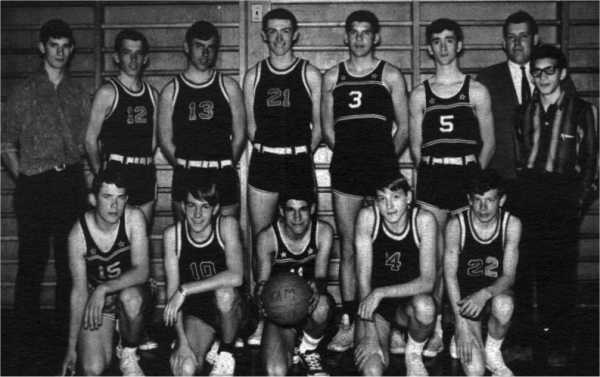 L to R Front — Ross Kipp, Alex McLean, Mike Sabatino, Doug Marchuk, Lyle Bradwell
L to R Back — Alan Bogetti, Don McKinley, Gerry Blanchard, Dave Thomas, Pat McLaughlin, Fraser Stewart, Mr. Chambers, Coach, Victor Bifano, Manager
Students' Council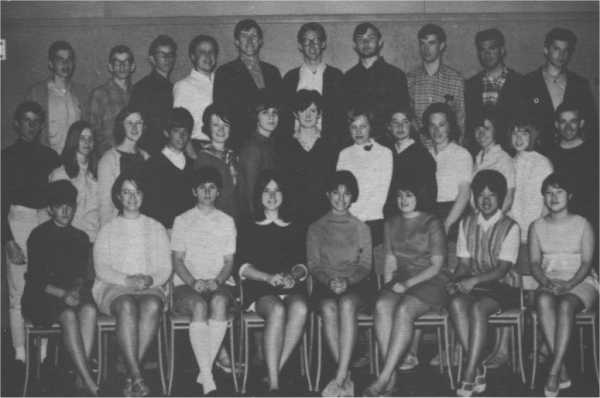 L to R top, Bill Fowkes, David Scott, Doug Perry, Ed Basile, Ken Gordon, Bill Mainpize, Bill Murdoch, Gordon Bwll, Al Floyd, Ernie Cordonier
L to R middle, David DeBeck, Chris Schoening, Kathy Willan, Lynda Nicholson, Maureen Marshall, Saron Clarke, Janice Gee, Linda Terry, Carol Long, Becky Cordonier, Nancy Edworthy, Linda Martin, Ted Price
L to R bottom, Lee Hartney, Ruth McDonald, Sherry Biagoni, Mary Stewart, Diane Ehlers, Georgine Walker, Evelyn Marr, Joanne Saito

Executive:
President — Ken Gordon
Vice-Pres. — Brian Long
Secretary — Carol Long
Treasurer —
Social Convenor — Maureen Marshall
ACC Chairman — Linda Jean Nicholson
FAC Chairman — Linda Martin
Totems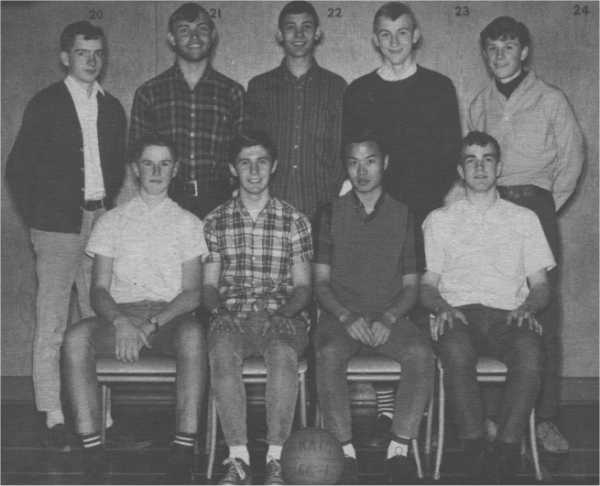 L to R Front — John Wilkinson, Gerry Conti, Chuck Ma, Randy Esselmont
L to R Back — Glen Burgoyne, Bill Murcock, Glen Garratt, Murray Hedley, Ted Shukin
Missing — Vince Corneau, Rick Foulger
Yearbook Staff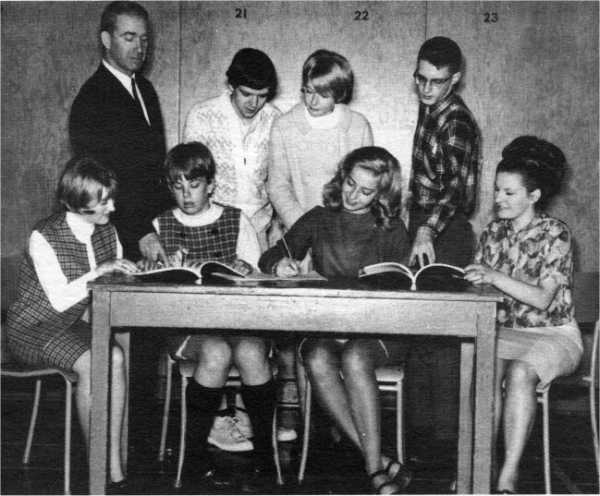 Left to right: Marion Gavin, Bridget Moss, Lynda Myronuk, Betty McKim.
Back: Mr. Knapp, Walter Harder, Barb Charles, Barry Hill-Tout

Annual Staff
Editor and Art Editor: Lynda Myronuk
Co-Editor: Bridgett Moss
Advertising: Ken Bradwell
Business Manager: Cris Hemingway
Sales Promotion: Marion Garvin
Photography: K.S.S. Photo Club: Walter Harder, Betty McKim, Barry Hill-Tout
Personals: Barb Charles
Sponsor: Mr. Knapp